There are a number of reasons people live in small homes or have small rooms. For some it's a matter of what they can afford, for others it's easier to maintain, and for still others it's simply an aesthetic choice. Regardless of the reason, people living in small space have to make compromises when it comes to furnishings, decorating, and organizing.
If you're looking to make those small spaces look bigger, then consider the following tips!
Airy, Light Fabrics
Sheer fabrics allow light to pass through window treatments, bed skirts, table covers, and furniture slipcovers. If you want something other than plain colors, find soft floral vines or simple stripes to keep the look simple.
Chooser Soft, Light Hues
Whereas dark, warm colors make a space feel cozy and intimate, light, cool colors make a space feel open and airy. For optimum effect, select soft tones of blues and greens.
Clear Out the Clutter
There's nothing that makes a small space feel cramped more than having too much stuff. Work out ways to get collections out of view, organized behind doors, table skirts, or on shelves. With things neatly arranged and out of sight, the space that is in view will feel orderly and open.
Coordinate Wall and Furniture Colors
Contrasting colors tend to break up a space. Pieces of furniture are less interrupting and tend to blend with the space if they're colored to match the wall color.
Keep the Upholstery Plain
Select plain colored upholstery for furniture instead of bold plaids, stripes, or prints. Use texture for interest and stick to neutral tones if you can. Visit our England Furniture catalog to see our wide selection of fabrics.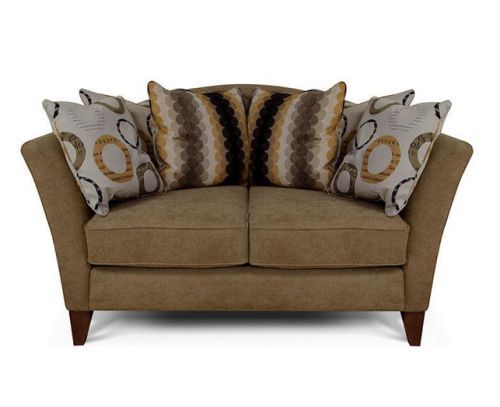 Use a Monochromatic Color Scheme
Choose colors that are in the same color family and use tone-on-tone woven upholstery fabrics, textured wall finishes, delicate tonal drapery fabrics. Cool colors and delicate warm colors on most surfaces give the room a more open look.
Open the Way
With furniture and accessories blocking the view into a room and out to open spaces, a room will look cramped. By moving furniture out and away from walkways, you'll open up the space and make it feel larger. You can also choose short pieces of furniture like an ottoman, an armless, open chair, or a low table, and place large, tall pieces along a wall rather than out in the open space.
Believe It or Not, Bigger Is Better!
Use a few large, simple pieces of furniture or accessories in place of several smaller pieces which would make a small space look cluttered. With open space and large blocks of color, the room will appear to be more calm and comfortable.
See-Through Space
By using materials that you can see through, anything beyond will appear farther away. For a tiny bathroom, I got rid of an opaque glass shower enclosure and substituted a clear, frameless one. The room is the same size looks bigger. Now we can see all the way (an extra 3 feet) to the wall at the back of the shower.
Let in the Light
Any room will look larger if it's well-lit, either by natural light or artificial lighting. Get rid of heavy draperies and open up the windows to let the light of the outdoors into the space. Add more lamps or install track lighting or recessed lighting.
Reflective Surfaces
You might not like the look of a mirrored wall, but you have to admit that it always makes a room look larger. Instead, use a large framed mirror on a wall or stand an over-sized framed mirror against a wall. You'll get the same room-enlarging effect as a mirrored wall, but with more style.