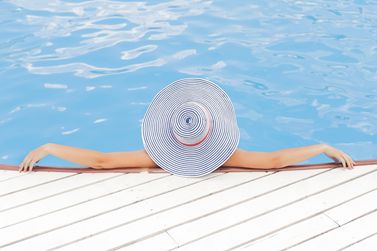 Summer has arrived and it's time for a change! What better way to embrace change than by redecorating your living room? Get your summer "main attraction" ready with a few subtle alterations.
Summer is a time for fun, the sun, and bright colors. Coming in from the warm weather to a deep-colored living room can sometimes be a drag. Don't worry; there are some ways to spruce up your living space. One small thing you can do to bring some color into your home is to change your accent rugs. Get a beautiful new rug with some bright blues, yellow, and reds to give you home a summer vibe.
Another way to add a subtle change is a bright colored ottoman. The misconception is that the ottoman has to match the sofa, which is not always true. Ottomans can be used to add a hint of color to your living room. You can also add bright pillows to you sofa for some much-needed color.
Table runners, flowers, candles, and centerpieces can also add brightness to a room. Visit England Furniture and let us help you to find the perfect pieces for that fun summer makeover.